WITHOUT CHARGING CABLE
An diesen Ladestationen können Sie Ihr E-Auto beschleunigt mit bis zu 22kW laden. Die tatsächliche Ladegeschwindigkeit ist abhängig vom Fahrzeug-Modell und der tatsächlich verfügbaren Ladeleistung an der jeweiligen Ladestation. Die verfügbare Leistung entnehmen Sie bitte der SMATRICS App oder der Ladestationenkarte auf der Webseite. Zum Laden an diesen Ladestationen benötigen Sie ihr eigenes Ladekabel.
First, connect the charging cable to the vehicle.
Hold your customer card on the display for identification to unlock the sockets on the charging station side.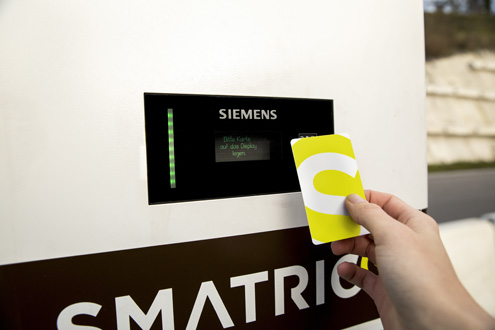 Press the plug on your cable tight against the closure of the left or right socket on the charging station to open it.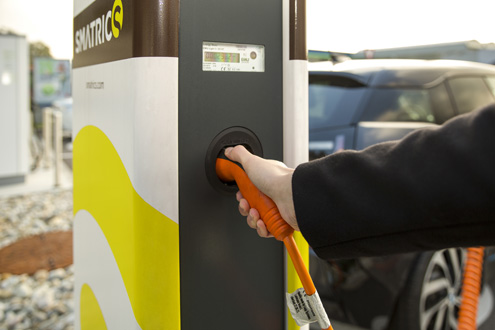 The charging process will start automatically after successful authorisation.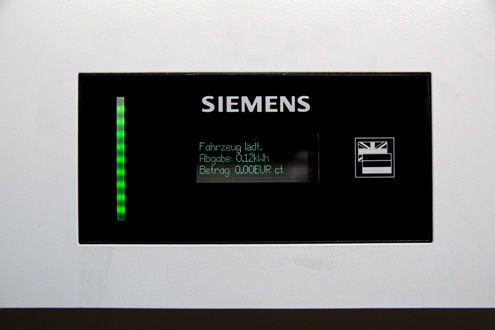 The following text info will alternate on the display during the charging process: "Vehicle charging. Delivery: 0.0 kWh" and "Please insert card for details".
If the second charging socket is free, the additional info "Ready for charging" will also appear on the display.
IMPORTANT NOTE
Do not end the charging process by unlocking the charging cable on the vehicle side, as this cannot otherwise be released from the charge point (theft protection). In this case, restart the charging process and then unlock at the charging station.
Hold your customer card on the display once to see the details of your charging process. Hold it on the display for the second time to end the charging process.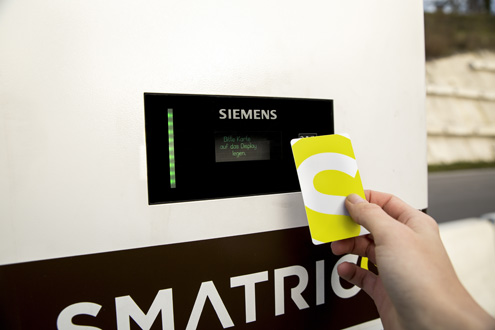 After successfully logging off, the sockets will be unlocked and you can remove the charging cable.