Pioneers, partners, e-mobilists
SMATRICS, a joint venture of OMV, Siemens and Verbund, sees itself as a full-range supplier of services related to the topic of electric mobility. As a technology partner for EU projects and in major customer projects, pioneer SMATRICS sets the pace for electric mobility solutions and all digital business models associated with it.
We are drivers of innovation
With the installation of the first high-speed charging network to cover all of Austria, which includes 450 charging points in a radius of about 60 km and charging capacities of up to 350 kW, SMATRICS has demonstrated what is technically possible. Activation by mobile phone, an all-round service with 24/7/365 customer hotline, a mobile app with a charging station finder. Live status, route planner and CO2-free electricity from 100% hydropower make our charging network one of the leading networks in Europe.
We are the leading solution provider
The know-how in the setup and operation of charging networks and the processes and services entailed in it constitutes the core business of SMATRICS today. When it comes to charging stations for electric cars, SMATRICS is the leading solution provider for all companies, energy providers and gas stations. With extensive and in-depth know-how, SMATRICS offers everything from a single source: from planning and setup to operation and individual invoicing systems and customer management.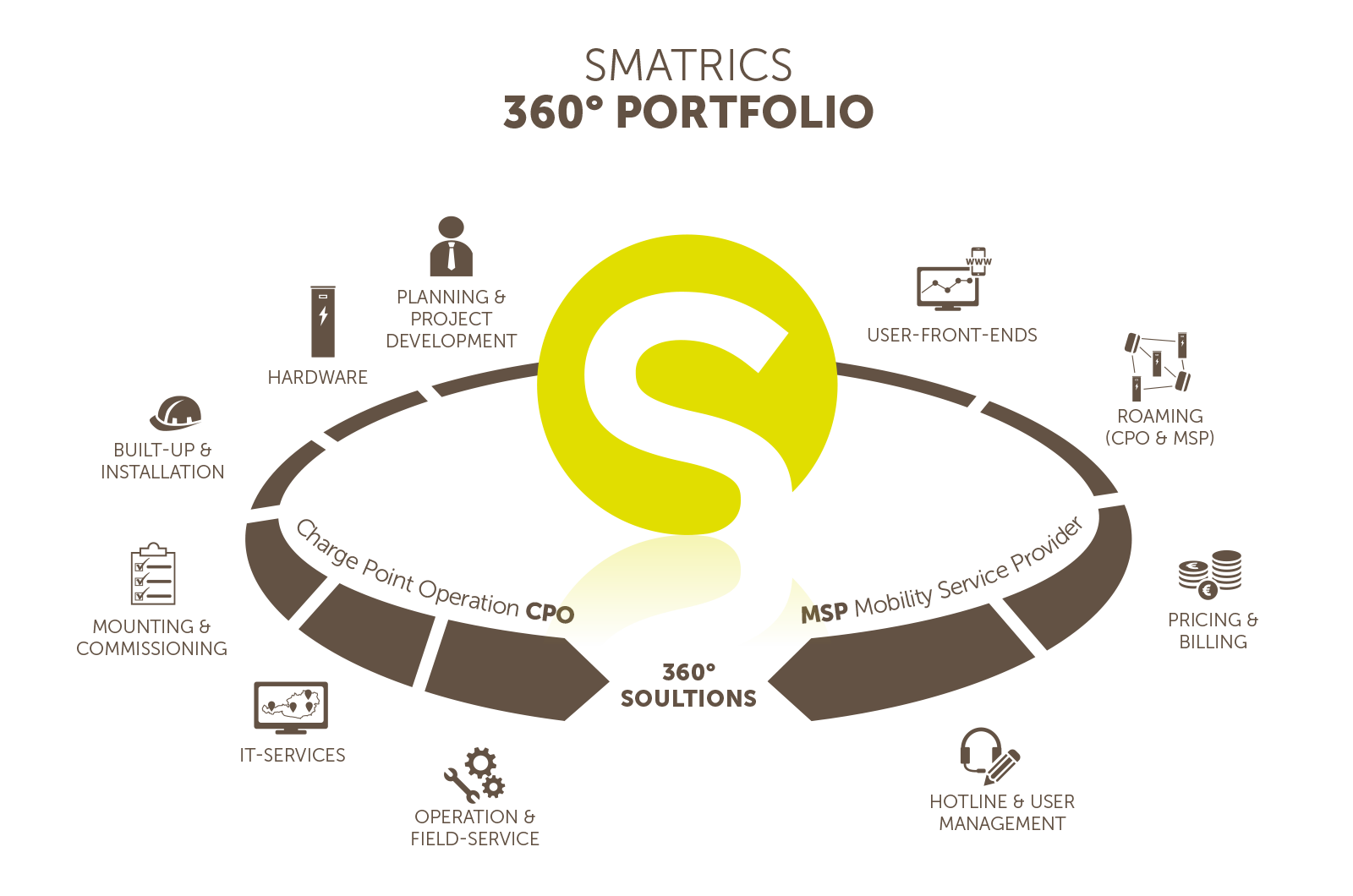 We want to show people a type of electric mobility that enables a smart and sustainable mobility suitable for day-to-day use, providing unrestricted freedom. All this is made possible by the infrastructure solutions provided by SMATRICS – anybody thinking of charging thinks of SMATRICS.
We make the claim and pursue the aim of becoming one of the leading global e-mobility providers with a business focus on infrastructure, services and IT services in Austria and beyond its borders. Society is ripe for a type of mobility that allows unrestricted individual movement in a more livable environment for us all as well as for future generations. E-mobility has become a part of our daily life. We outfit daily life and make all partners fit for e-mobility.

SMATRICS is the key to electric mobility. We ensure a type of mobility that is unrestricted and suitable for day-to-day use and offer all services that make driving electric vehicles easier and more convenient.
The share of electrically driven cars on our roads continues to grow. We are tackling the challenge.
Our range of offers includes innovative services, products and package solutions that feature a high level of everyday suitability and ease of use.
We enable roaming by working with partners in Austria and abroad.
We work sustainably by using only electricity from renewable energy sources.
We know the various use cases for charging infrastructure in the B2B area. We have developed simple products for this purpose that meet the customer's needs.
With systems and products, we make our partners fit for becoming e-mobility providers themselves.
In addition, we offer individual solutions, from the roll-out of a network of charging stations to the integration of software solutions in the customer's existing systems.
OMV, Verbund and Siemens Austria are the shareholders of SMATRICS.