The motto for SMATRICS customers: "No card? No problem!" Find out here how easily you can activate any charging station of your "home network" SMATRICS EnBW with your smartphone:
Step by step charging instructions
In the customer area, you sign in with your SMATRICS user account. Either in the SMATRICS app or directly on the SMATRICS website.
Select the desired SMATRICS EnBW charging station on the map or from the list. Connect car and charging station with the charging cable. NOTE: In the case of charging stations with a locked socket, the cable is inserted later, after pressing the START button (see step #4).
Click on "Charge" at the desired charging point. Charging points can only be selected if they are displayed as FREE.
Press START to confirm. NOTE: In the case of charging stations with a locked socket, the cable can now be inserted into the station.
The charging is ended by clicking on the "STOP" button. You can now pull the cable out. After ending the charging, it will be displayed under "Last charges".
If you're already a SMATRICS customer but don't yet have a user account, you can set it up here: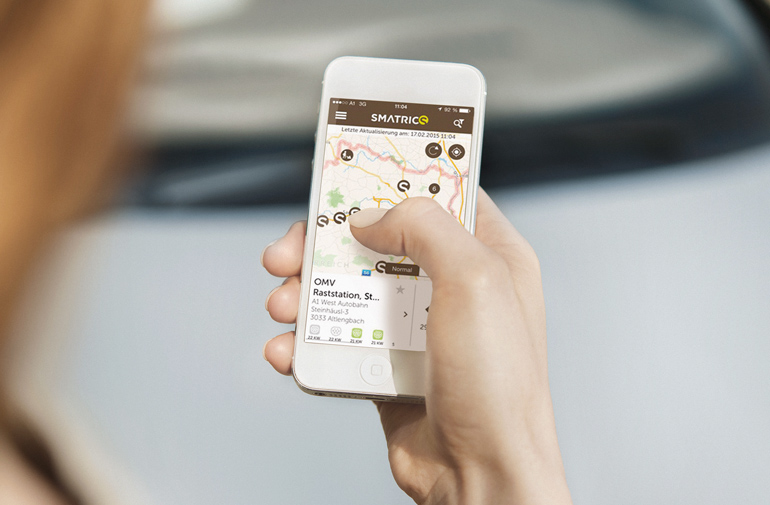 Charging by mobile phone is not covered by Flat NET tariffs
No combination of the activation methods: The charging can be started and ended using the SMATRICS app instead of the SMATRICS charging card. A combination of the two activation methods is not possible. If the charging was started via the app, it must also be ended with the app.
Clear the parking space after charging: Clear the parking space after the charging is finished within 15 minutes so other customer can use the charging station.