COMPANY VEHICLES IN THE FAST LANE

E-MOBILITY FOR YOUR FLEET

The number of companies that bank on sustainable mobility is on the rise. Small vans, city runarounds or saloons – they all have one thing in common: Electric cars offer your company entirely new savings potentials on many levels. It starts with tax relief and buying incentives and covers the entire operations.
WHAT'S BEHIND IT: BENEFITS for the Company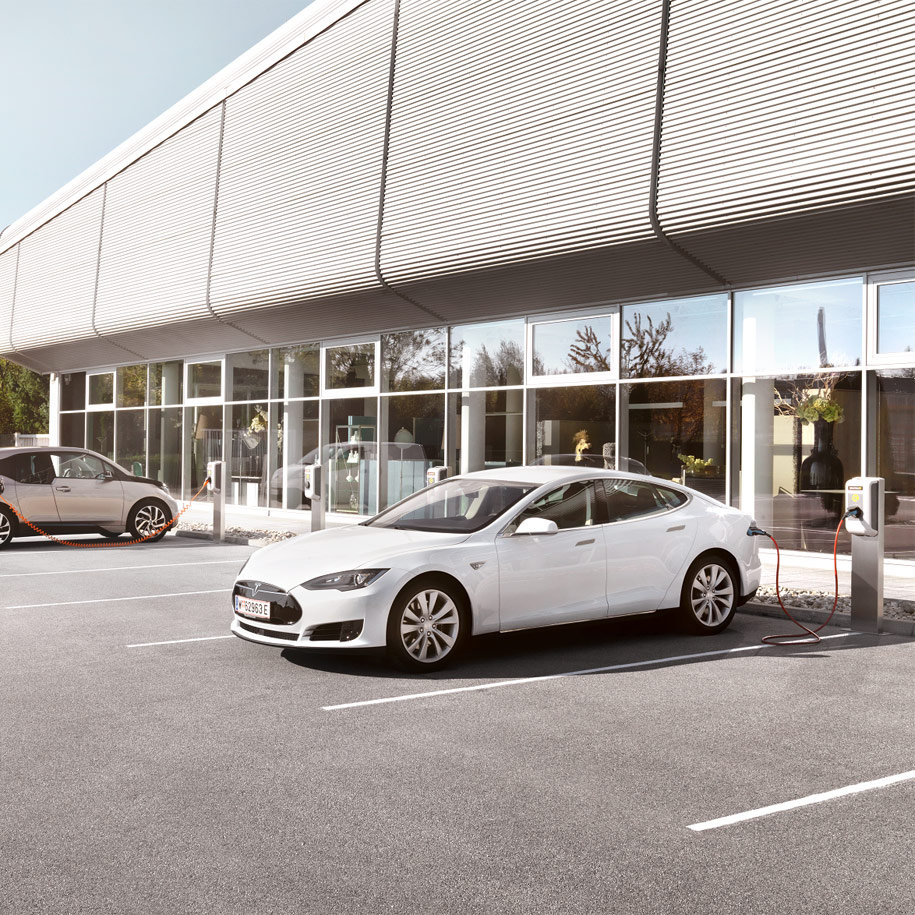 You receive everything from a single source: SMATRICS takes care of everything from hardware to installation to ongoing operations and billing.
You are always in control of managing and unlocking your charging stations.
With intelligent load management, you can use your existing grid connection in a cost-efficient way.
You are always on top of things when it comes to users and charging stations. You can manage and unlock your charging station yourself.
You can assign user group data to specific cost centres and settled afterwards.
BENEFITS FOR YOUR COLLEAGUES AND EMPLOYEES
Every electric car receives its own charging card. Using this card, the vehicle can be charged at the company premises, in the public SMATRICS network or at home.
Your employees' company cars are easily charged at a wallbox at home. Costs are charged to the company.
Your transporters can be charged overnight.
Upon request, all your electric cars can use the public SMATRICS network for longer distances.
OUR OFFERS FOR YOUR FLEET
CHARGING WHEN YOU NEED IT
Click here to discover our fleet package with recommended services for your company fleet. With our station and user management, we make sure your electric fleet is ideally cared for.
STATION MANAGEMENT
Our station management service package gives you full control of your station.
SMATRICS monitors the ongoing operations and maintains your station.
Our 24/7 support with hotline and on-site service guarantees permanent functionality.
Also included is the station portal to manage your stations.


USER MANAGEMENT FOR YOUR OWN FLEET
This service package allows your employees fast and easy charging without prior registration. You can use an online platform to manage the users. This service package includes:
Charging cards that your employees use to charge and pay.
A user management portal to manage all user charging data.
Furthermore, you receive cost overviews, helping you to assign charging sessions to internal cost centres.


Hardware
Our hardware – meaning our intelligent charging stations – is available in various performance levels. They guarantee safe and quick charging.
LOAD MANAGEMENT
Would you like to use your charging solutions efficiently and save money at the same time? Our intelligent control systems regulate how much power gets where and when. It can also be linked with a PV system any time.
Roaming
Charging networks are similar to mobile phone networks. Upon request, your customers are also able to charge their vehicles via the public SMATRICS network as well as through partner networks.