Ideal for your customers

E-MOBILITY SOLUTION FOR COMMERCIAL ENTERPRISES:

It is time to venture into a sustainable future. Wouldn't you agree? Click here to learn how you secure a competitive advantage for your company with customer charging stations and how you can increase your revenue with a charging station.
PERFECT FOR YOUR CUSTOMERS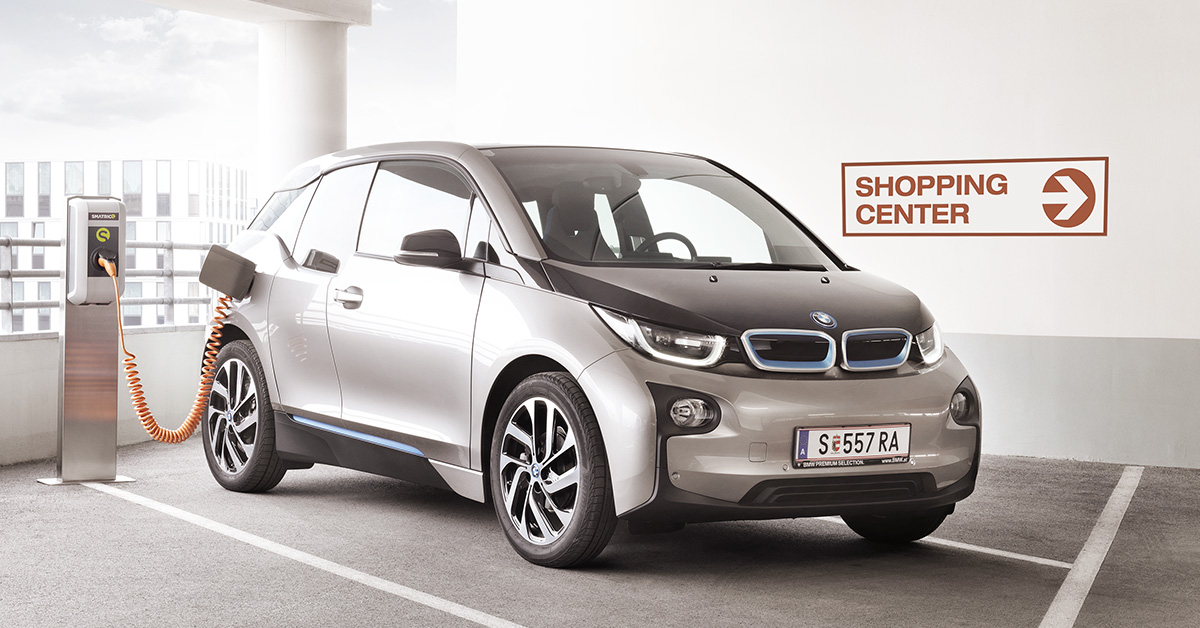 From grocery shopping to longer visits to furniture stores or taking a tour through a shopping centre: Parking is the new way of charging your car.
Customers comfortably charge their electric cars via a web app or customer card. You set the tariffs.
Your customers pay comfortably with their credit cards.
The SMATRICS hotline is available around the clock to answer your customers' questions.
Increase your value creation outside of your opening hours: Offer your parking spaces to residents with electric cars as charging zones.
YOUR ELECTRIC CHARGING SOLUTION – YOUR BENEFITS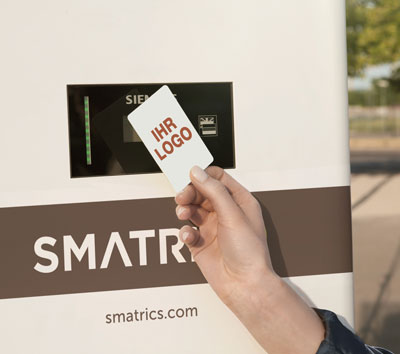 SMATRICS operates your charging stations or even your entire charging network under your brand.
You don't have to take care of anything: SMATRICS operates and maintains your stations and runs the hotline for your customers. Our on-site service quickly resolves potential defects.
You set the charging tariffs. Free to attract new customers, discounts for regular customers or a tariff that increases your revenue – anything is possible.
Upon request, SMATRICS can take care of the entire customer billing process for you.
SMATRICS furthermore takes care of communications regarding your electric charging stations (incorporation into the SMATRICS charging station locator, newsletter, etc.).
You receive customer data and can use it for customer loyalty programmes.
OUR OFFERS FOR COMMERCIAL ENTERPRISES
CHARGING WHEN YOU NEED IT
Click here to discover our packages and the recommended services and increase your location's attractivity. With our station and user management, we make sure your charging station is operated efficiently.
STATION MANAGEMENT
Our station management service package gives you full control of your station.
SMATRICS monitors the ongoing operations and maintains your station.
Our 24/7 support with hotline and on-site service guarantees permanent functionality.
Also included is the station portal to manage your stations.


USER MANAGEMENT FOR REGISTERED CUSTOMERS
This service package includes the entire user administration. It consists of:
A web app which your customers use to charge and pay. Upon request, this function can also be integrated into your customer card.
You set a tariff that you would like to charge your users.
They pay per credit card and receive a receipt.
SMATRICS takes care of the billing.
A user management portal to manage all user charging data.


Hardware
Our charging stations are available in various performance levels and allow your customers to charge their vehicles in a safe and comfortable way while they go shopping.
MARKETING
SMATRICS also markets your charging stations and advertises them directly in the specific target group. Our newsletter reaches out to thousands of electric car owners. Registering for our station locator allows you to reach customers across Austria.
White Labeling
Optionally, we can operate your charging stations under your own brand which includes branded stations, charging cards, user portals, web apps, bills etc.
Roaming
Upon request, your customers are not only able to charge at your own stations, but also via the public SMATRICS network as well as partner networks.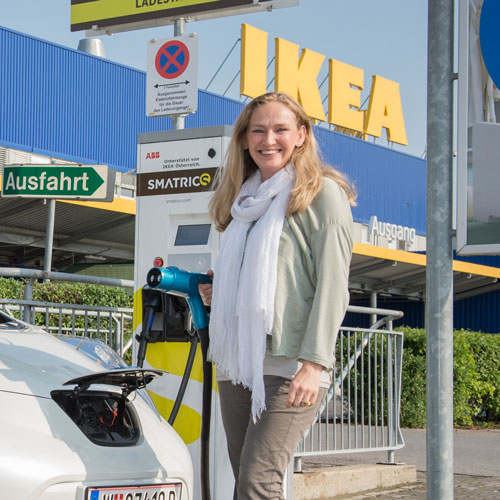 SMATRICS: THE BEST OPTION FOR SUSTAINABLE COMMERCIAL ENTERPRISES:
IKEA has been employing sustainability topics in its strategy for many years. Environmentally friendly mobility is one of the areas that will gain in importance in the future. SMATRICS charging stations for electric car owners are a great offer for our customers.
Alexandra Fellner, ommunication Manager at IKEA