Bild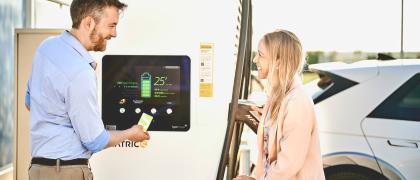 Erstellungsdatum: 31.07.2023
SMATRICS promotes switch from time-based charging tariffs to kWh tariffs
If you drive electrically, you drive cheaply. SMATRICS, Austria's No. 1 e-mobility specialist, is now promoting the switch from time-based tariffs to kilowatt hour-based billing with a 20 percent discount for three charging tariffs. The "switchover discount" is valid from 1st of August to 30th of September 2023 in the SMATRICS charging network for selected kWh tariffs and for both existing and new customers. 
Switching to billing by kilowatt hour pays off
"On the one hand, we want to use the campaign to focus on the switch to tariffs in which charging is billed according to kilowatt hours. This has been demanded by customers for a long time," says the CEO of SMATRICS, Hauke Hinrichs. "On the other hand, it is also a matter for us to pass on the currently cheaper electricity prices, of course."
Three discounted tariffs during the summer months
For the three kWh tariffs Charge Basic, Charge Pro and Charge Pro THG, there is a 20 percent price reduction for two months (August and September). Existing customers do not have to do anything, the discount is deducted from the respective charge automatically. New customers can easily register online.
Further information