Bild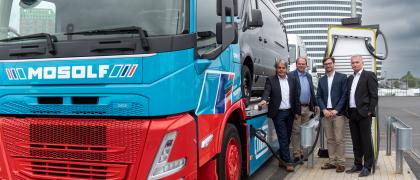 Erstellungsdatum: 24.05.2023
MOSOLF relies on SMATRICS solutions
The full-service provider SMATRICS implements high-performance charging solutions for e-trucks at the German locations for the international automotive logistics company MOSOLF. SMATRICS offers MOSOLF's own electric truck fleet everything from a single source: from the delivery of optimal hardware, to the roll-out of infrastructure and the electrotechnical connection of transformer stations, as well as the technical operation via SMATRICS' own charge point management system charVIS Operations.
The MOSOLF Group is one of the leading system service providers in the automotive industry in Europe. It relies on electromobility and is building up its own fleet of electric trucks. The charging stations for this are to be set up at MOSOLF locations throughout Germany. The Austrian charging infrastructure specialist SMATRICS, a subsidiary of VERBUND and the German EnBW, is responsible for the implementation. Together with EnBW, SMATRICS offers companies with electric fleets the EnBW mobility+ Business Professional product. It promises the right solution for charging fleet vehicles on the go, in the company and at home.
Electric truck charging stations have already been built in Illingen (Baden-Württemberg) and Düsseldorf (NRW), and work will start shortly in Gößnitz (Saxony). Further locations will follow by the end of 2023 with Ketzin (Brandenburg), Kirchheim, Kippenheim, Schöneck and Zörbig.
"With our commitment to e-mobility and the parallel development of the renewable energies division, we are developing a MOSOLF ecosystem with which we want to promote our energy independence on the one hand and make our contribution to achieving climate goals on the other. Of course, this also includes a powerful and reliable charging infrastructure," explains Egon Christ, Managing Director at MOSOLF Transport Solutions. A total of up to 42 charging points are planned, the maximum charging capacity per charging point is 300 kW.
"Green logistics is the future. We are happy about the trust of an industry giant like MOSOLF. The order also underscores our expertise in the truck sector," says Hauke Hinrichs, CEO of SMATRICS. The charging infrastructure specialist supports companies along the entire e-mobile value chain and also operates a nationwide public High Power Charging (HPC) charging network in Austria.