Bild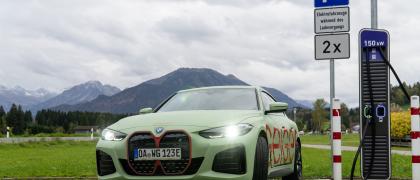 Erstellungsdatum: 09.10.2023
Geiger Group relies on SMATRICS to expand its e-charging infrastructure
As a 360° full-service e-mobility partner, the Austrian green tech professional SMATRICS builds and operates charging infrastructure for the Geiger Group's Europe-wide fleet operations. The successful family-owned company with headquarters in Oberstorf in the Allgäu region is active in the areas of infrastructure, real estate and environment with an annual turnover of 700 million euros. At more than 100 locations in Germany and the European region, the fleet is gradually being converted to electric cars, thus ensuring an improvement in the CO₂ balance.
"Green logistics are the future. We are delighted about the trust placed in us by the European Geiger Group. The corporate philosophies of SMATRICS and Geiger have many parallels. The focus is on optimal and practicable e-charge solutions. At the same time, the order underlines our expertise in the fleet sector," says Hauke Hinrichs, CEO of SMATRICS.
"We have set ourselves the ambitious goal of being greenhouse gas neutral by 2030. A key measure is the sustainable operation of our extensive passenger car fleet through successive electrification and supply through our own electricity generation. In this way, we are making a positive contribution to our society. The cooperation with SMATRICS brings us another big step closer to our climate goal," explains Josef Althoff, Managing Director of Geiger Energietechnik.
The green tech company SMATRICS offers 360° solutions for software, hardware and services along the entire e-mobile value chain. In partnership with the German EnBW, SMATRICS offers the Geiger Group, its 3,500 employees and its customers "everything from a single source": this includes support in project planning for the locations, provision of the hardware, intelligent load management of the charging stations and operation of the charging infrastructure.
In addition to simple fleet management with the integrated EnBW Smart Mobility Portal, a 24/7 service hotline and group billing of the individual charging processes are also included. For charging itself, the EnBW mobility+ offer with roaming-capable app and charging cards for access to more than 500,000 charging points in the European EnBW HyperNetwork as well as home charging options are included.
Further information