Bild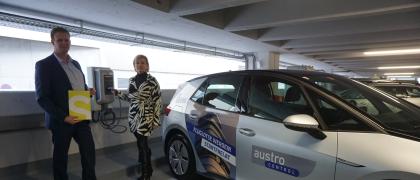 Erstellungsdatum: 08.03.2023
SMATRICS builds charging infrastructure for Austro Control
Austria's air traffic control relies on sustainable mobility: SMATRICS has put charging solutions into operation for Austro Control throughout Austria and will also take over the operational management of the charging infrastructure in the future.
31 charging points for Austria's flight security
A total of 31 charging points were set up at the Austro Control locations at Austrian airports and at the company headquarter in Vienna-Erdberg. Two charging points are located on the Koralpe at over 2,000 meters above sea level.
SMATRICS is responsible for maintenance, troubleshooting and user support, so that the operation of the charging stations causes as little effort as possible for the company. Important for a company with critical infrastructure: The expertise of the e-mobility specialist guarantees high availability and support around the clock.
Efficient & sustainable charging infrastructure for Austro Control
Valerie Hackl, Managing Director of Austro Control: "An important goal of our corporate strategy is the continuous improvement of our environmental performance. Electromobility is part of the solution. It is important to us that our employees can easily and reliably charge the new electric vehicles in the Austro Control fleet for trips to branch offices. The offer from SMATRICS convinced us."
"SMATRICS has built Austria's nationwide high-power charging network. With this expertise in the background, we also offer companies optimized charging solutions - according to their needs and with little effort. In this way, companies can make climate-friendly mobility possible and focus on their core business simultaneously. We are pleased to be able to support Austro Control as a key Austrian company on their way to more sustainability with future-proof charging solutions," says SMATRICS CEO Hauke Hinrichs.