Bild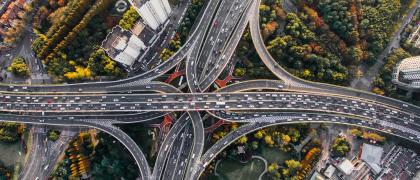 Erstellungsdatum: 13.06.2023
E-mobility technology trends: the future of CPOs & EMPs
In the fast-paced world of e-mobility, technology trends play a critical role in shaping the landscape of the industry. In this blog post, you learn more about advances in charging infrastructure, smart mobility solutions and how these technological innovations are having a profound impact on charging network operators (CPOs), e-mobility providers (EMPs) and the ongoing transition of mobility & energy industries.
High Power Charging as a competitive advantage
The demand for high-tech charging solutions is driving the development of efficient & powerful charging infrastructure hardware. Companies can benefit from this trend by investing in High Power Charging (HPC) charging stations.
HPC stations significantly reduce charging times, improving the convenience and usability of electric vehicles. The ability to offer efficient & fast charging solutions can attract more customer:s and significantly increase the competitiveness of both CPOs and EMPs that enable the use of the appropriate charging infrastructure.
Stronger together: charging network integrations & roaming
As the e-mobility market grows, interoperability becomes increasingly important: e-mobility companies focus on building & expanding extensive charging networks to enable seamless charging experiences across different regions and charging networks.
By participating in roaming agreements and collaborating on a national and international level, companies are providing their charging network customers with broad access to charging infrastructure, increasing satisfaction and improving the user experience.
Scalable charging infrastructure with intelligent software
Efficient management of charging infrastructure is of paramount importance to CPOs and EMPs: the rise of cloud-based e-mobility software platforms enables centralized management, real-time monitoring and remote diagnostics - from individual charging stations to entire charging networks. These tools streamline & optimize charging infrastructure operations and provide valuable insights into charging patterns and behavior of charging network customers.
By implementing scalable charging infrastructure management software solutions, companies can increase operational efficiency and provide better services to their customers.
Innovative technologies for the transformation of mobility & energy
Vehicle-to-grid (V2G) technology
The integration of electric vehicles into the energy grid via V2G technology offers exciting opportunities: E-vehicles can serve as mobile energy storage units, feeding excess energy back into the grid during peak demand or supporting local energy systems.
This innovation has the potential to make the mobility sector a key player in grid balancing and renewable energy integration, and to greatly facilitate the transition to a decentralized and sustainable energy ecosystem.
Intelligent mobility solutions
Combining new technologies such as artificial intelligence (AI), the Internet of Things (IoT) and data analytics will enable the development of smart mobility solutions: from efficient route planning, optimized charging, efficient energy management to improved user experiences.
The combined use of these technologies can make transport & energy networks smarter and more responsive, leading to less congestion, higher energy efficiency and improved overall mobility, potentially enabling entirely new use cases and business areas.
Paving the way for the mobility transition: Technology, Networking & Collaboration
We are at an exciting point in the energy & mobility transition: Thanks to new fast charging solutions, integrated charging networks and scalable infrastructure management, CPOs & EMPs, more than ever, have powerful technologies & tools at their disposal to optimize their operations and provide customers with the best possible service.
To this end, new applications such as V2G technology and intelligent mobility solutions are already in the starting blocks. These hold the potential for rapid further developments, the effects of which extend far beyond the e-mobility industry.
For the transformation of mobility & energy to succeed, the use of these new technologies as well as stronger networking & cooperation - both that of human actors and that of technical systems - is required. Only together and with the combination of all means can the transformation towards a more sustainable future be managed.