Bild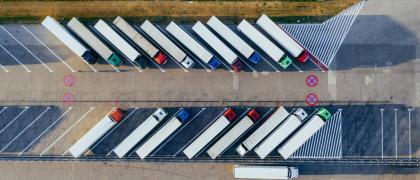 Erstellungsdatum: 14.09.2023
Resilient & sustainable supply chains with e-trucks
Increase reliability & reduce costs with e-mobility solutions
In a world of constant change, transport & logistics companies face new challenges and uncertainties. More than ever, forward thinking and the courage to innovate are required to ensure that companies can maintain their operational strengths and make their supply chains as resilient and flexible as possible.
The use of electric mobility, especially in the area of commercial heavy duty vehicles, as well as with suitable own charging infrastructure, is proving to be a transformative strategic step for logistics more than ever. Companies are increasing their flexibility and the resilience of their supply chains, while at the same time reducing the CO2 emissions of their fleets.
Resilient supply chains with e-trucks
Ensuring sound supply chains is at the core of any successful logistics management. Electric commercial vehicles contribute to resilience by minimising downtime & maintenance due to their lower maintenance requirements. Trucks with classic combustion engines are comparatively complex and have numerous moving parts, which makes them prone to failures. In contrast, the engines of e-vehicles are designed to have fewer components and therefore require less maintenance. This allows for smoother operation, shorter downtimes and less time lost to breakdowns or service & maintenance.
However, the reliability of e-vehicles goes far beyond the mechanical aspects of their propulsion: with e-trucks, companies can adapt more easily to constantly changing market conditions. Ensuring easy access to urban delivery areas in the long term plays an equally important role, as access regulations in inner-city areas are becoming increasingly restrictive with regard to approved forms of propulsion. E-trucks thus facilitate last mile delivery and ensure reliable compliance with delivery deadlines with flexible options for planning urban delivery routes.
Increase reliability & minimise costs with intelligent charging infrastructure
By rolling out e-charging infrastructure at their own locations, logistics companies provide their e-truck fleets with quick and convenient access to charging. This simplifies and streamlines operational processes and guarantees that the vehicles are always ready for use when needed. Investing in their own charging infrastructure for logistics builds the potential for long-term cost savings by eliminating dependence on external charging providers.
Owning the charging infrastructure also allows companies to efficiently control and manage their internal energy consumption. Optimised charging schedules and load management can take advantage of off-peak electricity rates and minimise operating costs. Furthermore, smart charging solutions offer the possibility to balance energy consumption, which makes an additional contribution to sustainability goals. The integration of renewable energy sources into the company's own charging infrastructure can also be beneficial in this regard, while ensuring a stable power supply for the company's own e-vehicle fleet.
Increasing sustainability in supply chains
By switching to e-trucks and their associated charging infrastructure for logistics companies, the carbon emissions of supply chains can be significantly reduced. By integrating electric vehicles into their fleets, transport and logistics companies can effectively address the issue of sustainability and efficiently adapt their business activities to dynamically changing legal requirements.
In regards to their customers, there are increasing expectations and requirements for the sustainability management of transport & logistics companies: the conversion to sustainable forms of mobility not only improves image & brand value, companies position themselves as responsible market players. This can facilitate the maintenance of existing business relationships and the development of new target groups.
E-mobility for efficient & sustainable supply chain management 
By introducing e-vehicles and building their own charging infrastructure, logistics companies are positioning themselves as pioneers in sustainable supply chain management. In addition to significantly reducing CO2 emissions, e-mobility solutions for logistics increase operational resilience, give their e-fleets access to fast charging options and reduce operating costs through optimised energy management.
Further information