Bild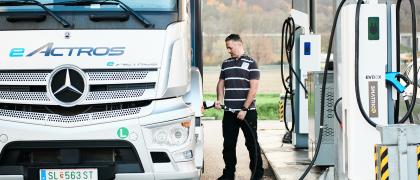 Erstellungsdatum: 19.06.2023
Success factor e-trucks: Transformation of logistics with e-mobility
In the dynamic world of logistics & transport, the introduction of electric trucks is a transformative step, bringing benefits to companies in the industry that go far beyond the reduction of CO2 emissions.
The conversion of heavy-duty fleets from combustion engines to electric drives increases the sustainability of logistics companies and drives the long-term success of transport companies. In this article you will learn more about the numerous advantages that come with this development.
Save operating costs in logistics with electric trucks
Even if upfront investments in heavy commercial vehicles with electric drives and the appropriate charging infrastructure for e-trucks can be higher, logistics companies with e-fleets usually have lower operating costs. This is due to the independence from fossil fuels - electricity is generally cheaper than fossil fuels, resulting in lower fuel & maintenance costs.
In addition, electric trucks have fewer moving parts, which reduces vehicle maintenance and, as a result, the downtime of the heavy-duty fleet. Thus, logistics companies can achieve significant savings in operational costs and a more favorable return on investment.
Electric heavy-duty fleets increase energy efficiency & performance
Compared to vehicles with combustion engines, e-trucks are characterized by an exceptionally high energy efficiency. Electric powertrains convert a higher percentage of energy from the battery into propulsion, resulting in a significantly lower fuel consumption.
In addition, electric-powered trucks provide instant torque for quick acceleration and have an improved performance. The smooth and quiet operation of electric trucks also improves the driving experience, reduces driver fatigue and increases the overall safety of the fleet.
Sustainable contribution to noise reduction & urban logistics
Electric commercial vehicles contribute to a quieter and more sustainable urban environment: by eliminating engine noise and reducing vibrations, noise pollution from electric trucks is significantly reduced. This makes them attractive for deliveries in urban areas - especially late at night or early in the morning - which is particularly beneficial for those logistics companies that operate in noise-sensitive zones or have to meet specific delivery time windows.
The international automotive logistics company MOSOLF, for example, relies on fully electric car transporters including charging infrastructure in Düsseldorf to reduce the impact of heavy goods traffic on the urban environment in inner-city shuttle traffic between the Mercedes-Benz Vans plant and the Rhine port in Düsseldorf.
Internationally, many cities and regions are also starting to introduce restrictions on vehicles with internal combustion engines, especially in inner-city areas of metropolitan areas. E-trucks are increasingly receiving preferential treatment, such as access to restricted zones or their own high-power charging infrastructure in urban logistics centers.
In addition, states & local governments offer financial incentives like grants or other public funding of e-mobility more often to encourage the adoption of electric commercial vehicles, which further reduces the financial burden of companies that switch to e-fleets.
Electric heavy-duty fleets increase brand value & demand
Sustainability and environmental impact are becoming increasingly important for customers in all business sectors and industries. Transport & logistics companies that rely on e-trucks can orientate themselves towards the sustainability goals of their customers and thus strengthen the value and reputation of their own corporate brands.
By introducing sustainable technologies and ecologically sensible processes, logistics companies can position themselves as environmentally conscious organizations that are aware of their responsibility, meet the expectations of their customers and are able to cope with ever-increasing regulatory requirements.
Commitment to environmentally friendly transport solutions can strengthen existing partnerships and opens doors to new target groups.
Conclusion: E-mobility as a transformation factor in logistics
The use of new technologies and the associated efficient charging infrastructure for e-trucks can reduce operating costs, increase performance and safety and boost the value and reputation of your own brand at the same time.
With the switch to modern electric heavy duty vehicles, transport and logistics companies not only make a sustainable contribution to climate protection and a future worth living in, they also secure tangible competitive advantages for the heavy goods traffic of tomorrow.