Bild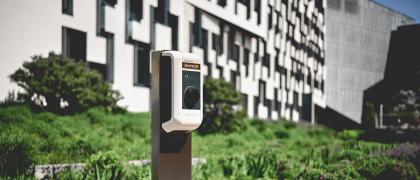 Erstellungsdatum: 22.05.2023
E-mobility for municipal utilities: unlocking the potential of infrastructure & services
In this blog post, you will learn how public utilities can use e-mobility to drive innovation, strengthen customer relationships and open up new revenue streams. Discover the advantages of having your own charging infrastructure for municipal utilities and what the offer of e-mobility services for end customers brings to the table.
E-mobility initiatives as an innovation factor for municipal utilities
Public utilities play a crucial role in the electrification of road traffic and transportation. By using e-vehicles, setting up charging stations and operating their own charging infrastructure, utility companies can tap into a multitude of advantages and, at the same time, can promote sustainable progress in their local catchment areas significantly.
Benefits of own charging infrastructure & e-mobility services for public utilities
Own charging solutions as well as the offer of local e-mobility services for end customers and partner companies opens up numerous advantages for municipal utilities and local energy suppliers:
Set up charging infrastructure: The roll-out of charging infrastructure and the operation of own charging solutions gives municipal utilities a competitive advantage. By deploying charging stations in their service areas strategically, energy suppliers can improve the accessibility and convenience of e-vehicle charging for residents, businesses, and visitors. This infrastructure investment not only drives community-wide adoption of e-mobility, but also positions public utilities as pioneers of the transition to e-mobility.
Strengthening customer relationships: Municipal utilities build stronger relationships with their customers through their own local e-mobility offerings. Providing reliable, efficient and user-friendly charging solutions makes energy suppliers trusted partners in the e-mobility ecosystem. Customers appreciate the convenient access to their local energy supplier's charging stations, which leads to higher satisfaction and loyalty.
Expanding revenue streams: Municipal utilities can tap into new revenue streams by monetizing their local charging infrastructure. By actively working with companies and fleets, utility companies can expand existing relationships and explore new partnerships, offering customized charging solutions and service plans to meet individual needs.
Driving economic growth: Investments in e-mobility create a domino effect that promotes local economic growth. As more e-vehicle drivers turn to local businesses to charge their vehicles, there are greater growth opportunities for retail companies and job creation. By promoting e-mobility and providing charging infrastructure, municipal utilities contribute to a thriving local economy and position their communities as attractive destinations for environmentally conscious businesses and tourists.
Promotion of environmental sustainability: The promotion of electric mobility is in line with the broader goals of environmental sustainability and CO2 reduction. By encouraging the uptake of electric vehicles and providing clean energy for charging, public utilities help to reduce greenhouse gas emissions and improve air quality. These efforts have a positive impact on public health, quality of life and the overall sustainability of local communities.
Conclusion: E-mobility as opportunity & strategic investment for local suppliers
Municipal utilities have a unique opportunity to drive the adoption of e-mobility, empower their local communities and thrive in both the energy and mobility transitions. By providing own charging infrastructure & services, they are strengthening customer relationships, expanding revenue streams and promoting environmental sustainability - they lead the way towards a greener and livable future.