Bild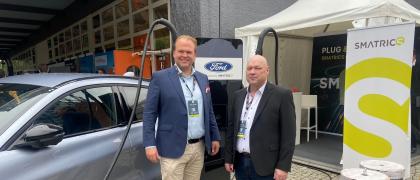 Erstellungsdatum: 05.09.2023
SMATRICS develops Plug & Charge charging technology with Ford
After joint development with its partners Ford and Hubject, SMATRICS, as a full-service provider, has productively implemented the convenient and secure Plug & Charge (PnC) charging technology in its portfolio.
With this new technology, authentication at the charging station takes place directly via the e-vehicle - registration, charging and billing take place automatically, charging card or smartphone app are no longer necessary. SMATRICS is thus one of only five productive software providers in Europe to offer Plug & Charge.
"The charging process must be as convenient and safe as possible for customers," says SMATRICS CEO Hauke Hinrichs. "Plug & Charge offers both: easy charging without a card or app and maximum security. We are proud that we had Ford, one of the largest car manufacturers in the world, as a development partner at our side."
With Plug & Charge, the e-vehicle and charging station "communicate" automatically. The respective contract number is read directly from the vehicle by means of digital certificates. The advantages for customers: No card or smartphone is needed to start the charging process; authentication takes place directly via the contract stored in the electric car. This is convenient, saves time and makes charging even faster.  
The new charging technology was first presented at the Intercharge Network Conference at the end of August 2023 by SMATRICS, Ford and Hubject. 
Further information